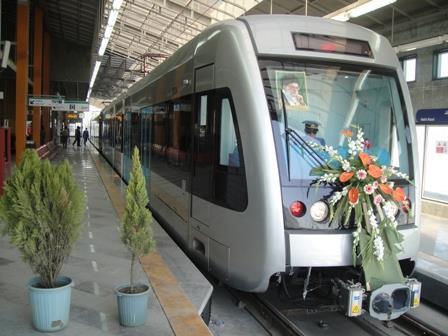 IRAN: More than a decade after work began on the first light metro line in Mashhad, the country's second city finally began running revenue services with the start of a limited pre-opening trial on March 12. A formal opening by President Ahmedinajad is expected to take place later this year, according to Mashhad Urban & Suburban Railway Operations Co Deputy General Manager Abolfazi Mirzaee.

Line 1 stretches for 19 km from Nakhrisi in the east to Vakilabad in the southwest, with half of the route in tunnel and the rest at grade. A 6 km extension from Nakhrisi to the airport in the southeast of the city is envisaged.

With deliveries of the 70 low-floor LRVs from CNR Changchung not due for completion until the end of this year, MUSROC has only been able to launch a trial service. Nine units are in use, allowing the operation of three 3-car trains at 35 min headways between 08.00 and 16.00.

The trains operate at a maximum speed of 80 km/h, giving an end-to-end journey time of 30 min at a commercial speed of 34·5 km/h. With all cars in traffic, the peak design capacity is put at 17 000 passengers/h in each direction.

Meanwhile, construction is getting underway on the second of the city's planned five metro corridors. Line 2 will be a heavy metro running north-south for 14 km between Koohsangi and Tabarsi, with 12 stations. Cut-and-cover construction of the stations has already started, and Mirzaee says the two tunnel boring machines will start the main drives in June.