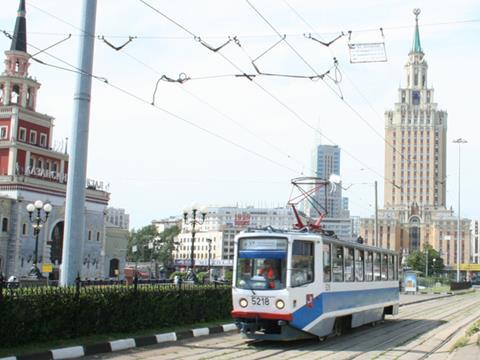 RUSSIA: Mayor Sergei Sobyanin confirmed his commitment to the future of Moscow's 416 km tram network during a visit to a section of modernised track on Krasnoprudnaya Ulitsa on November 26.
'We are not going to stop the tram traffic in the city', the Mayor said. 'On the contrary, we intend to work to make the Moscow tram service more convenient and comfortable for the passengers, as well as speedier.'
Daily ridership is currently around 600 000, and this is expected to increase by 20% once a three-year upgrading programme is completed.
A total of 57 km of the 1 524 mm gauge tramway is to be modernised this year, followed by 71 km in 2013 and 55 km in 2014. Bids have been invited for a contract to supply a potential 300 modern low-floor trams in 2014-15, and the winner is scheduled to be announced after December 15. Tram tracks are to be segregated from other traffic, and 1 min headways are planned. Work will also be undertaken to reduce noise.
Consideration is being given to the reinstatement of six former sections of tramway totalling 26 km.