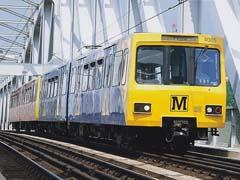 Local transport authority Nexus has postponed naming a preferred bidder for a seven-year Tyne & Wear Metro operating contract until early 2010.
Two candidates, DB Regio Tyne & Wear and the in-house Nexus bid team, have been asked to 'revise and confirm' their detailed tenders with a view to a winner being announced in January. Rival bidder Serco-NedRailways failed to progress, whilst the fourth interested party, MTR Corp, pulled out of the race in June.
The start of the operating contract is planned for April 1 2010, and will mark a significant milestone in the programme to overhaul and upgrade the 59 route-km light rail network, which connects the cities of Newcastle and Sunderland with suburbs on both sides of the Tyne and Wear rivers.
Under the concession agreement, Nexus will continue to own most of the infrastructure used by the metro, although LRVs use Network Rail tracks on the route to Sunderland. Nexus will retain responsibility for setting fares and receive all farebox revenue.
Funding from the Department for Transport worth up to £346m has been agreed covering two phases of the Metro Re-invigoration programme which would see the network infrastructure significantly upgraded by 2019.