PORTUGAL: The European Commission has approved an €83m allocation from the EU Cohesion Fund to support expansion of the Lisboa metro network.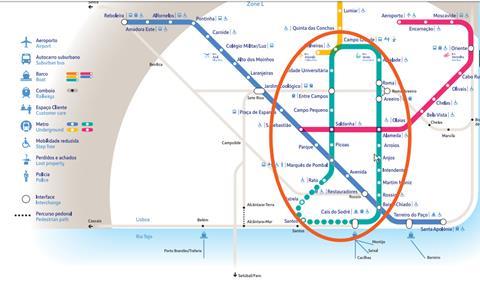 Creation of a circular route around the city is envisaged under the plans, which would see a short connection built between the Yellow Line terminus at Rato and the Green Line at Cais do Sodré through the west of the city centre. New stations are planned at Estrela and Santos.
It is hoped that completion of a circle line would eliminate existing bottlenecks on the network and make the metro more attractive for journeys in the Oeiras, Cascais, Almada, Seixal and Montijo districts of the city.
The project has a total cost of €210m, with the remaining €127m being funded through the national government's environmental budget. Procurement is already underway, with the first of two design and build packages worth €49m awarded in early May to Zagope Construction & Engineering. The link is due for completion in 2024.
'This project will bring lots of benefits to the Lisboa metropolitan area, including shorter travel times and reduced CO2 emissions', said European Commissioner for Cohesion & Reform Elisa Ferreira.