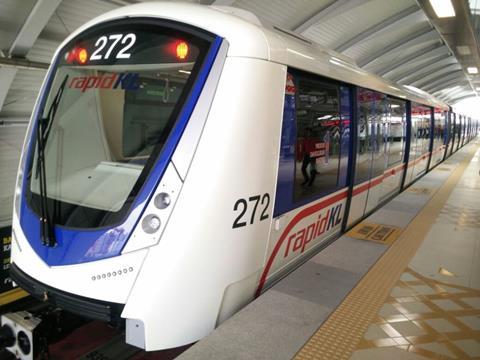 MALAYSIA: Bombardier Transportation announced on August 24 that final assembly of the first Innovia metro cars from a follow-on order of 108 for Kuala Lumpur transport agency Prasarana has been completed.
To be deployed on the north-south Kelana Jaya light metro line, the 27 four-car Innovia 300 driverless trainsets were ordered from a consortium of Bombardier Transportation and local partner Hartasuma in March 2017. Bombardier has a 1·2bn ringgit share of the 1·7bn ringgit contract. The same consortium had previously supplied a batch of 14 trainsets to Prasarana, which entered service in late 2016.
The trainsets are being manufactured at Bombardier's Plattsburgh plant in the USA with final assembly and fit-out taking place at Westport in Malaysia. They are expected to enter service later this year.
'Bombardier has been investing in local production in Malaysia for more than 20 years, supporting employee training and development plans for our customers', said Jayaram Naidu, President of the southeast Asia region at Bombardier Transportation. 'We are driven by the opportunity to make mobility even more efficient, sustainable, and inviting by delivering smart transport solutions, such as these metro trains, that will increase connectivity in Malaysia. We are committed to supporting our customers throughout the pandemic.'