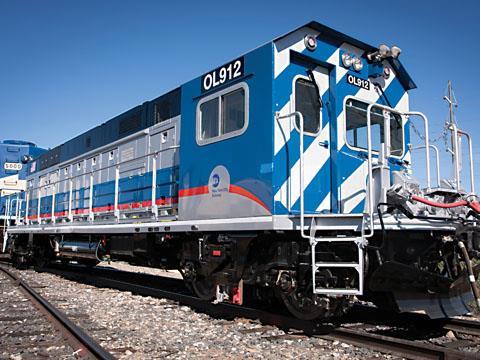 USA: The board of the New York Metropolitan Transportation Authority voted on July 22 to procure a fleet of diesel-battery hybrid locomotives to modernise the rolling stock fleet used to haul engineering trains on the New York Subway.
Under the agreement, Wabtec's Motive Power Inc subsidiary will deliver an initial 25 locomotives over the next five years, with the first two expected to arrive within 38 months.
Following the closure earlier this year of the MotivePower Inc factory at Boise, Idaho, the R233 locos will be assembled at Wabtec's former GE Transportation plant in Erie, Pennsylvania, which will also produce the battery packs. These will enable works trains operate in tunnels and other confined locations without using diesel power for up to 8 h, thereby improving conditions for maintenance staff.
The locomotives will be equipped with external and internal cameras and a digital video recorder to capture images of the track, lineside assets and signalling equipment across the network. They will also feature onboard monitoring and diagnostics systems to support preventative and condition-based maintenance of the fleet.
Funding worth $233m for the initial 25 locos will be drawn from MTA's 2015-19 Capital Programme. An option for up to 45 additional hybrid locomotives, if exercised, would be funded from the 2020–24 programme. The locos are intended to replace a fleet of diesels dating from 1966-77.
'These new hybrid locomotives will bring two huge benefits to our employees, customers, and all New Yorkers', said NYCT Interim President Sarah Feinberg. 'They will mean cleaner air in the Subway system while we do work on the tracks, and less fuel consumption in our system overall. We are in an incredibly challenged time fiscally, but the health of our employees and customers is too important to delay retiring inefficient old equipment.'