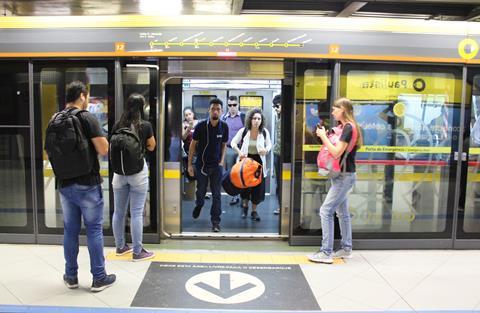 BRAZIL: A consortium of GPO, Geocompany and Geotec has been awarded a contract covering preliminary engineering design and an environmental impact study for the planned Line 20 metro in São Paulo.
The contract is worth R$5∙3m and work is due for completion within 32 months. Line 20 would have 24 stations over 31 km, linking Santa Marina in the north with Santo André in the southeast of the city.
Previous iterations had envisaged a shorter route with termini at Lapa and Alfonsina, but the current proposal extends the line to provide interchange with the future Line 6 (Santa Marina) and Line 10 (Santo André).
Line 20 is expected to carry around 1 million passengers a day and will have a throughput of 32 000 passengers/h per direction.
Following the state government's decision in July 2019 to cancel the Line 18 monorail in favour of a bus rapid transit corridor, Line 20 will also play a part in improving access to the city's southern suburbs, and its planning is being accelerated accordingly.
Construction is expected to start in 2023 at the earliest, and the estimated construction cost is more than R$10bn, which the state plans to finance through a PPP concession.