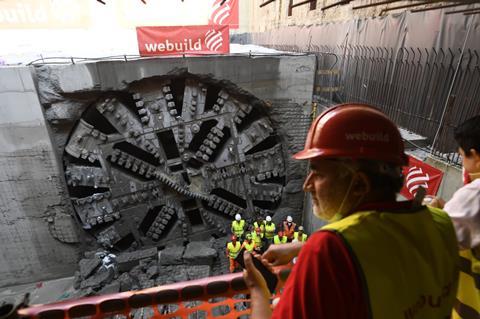 ITALY: Tunnelling on Milano metro Line 4 was completed on September 9, when the project's two remaining tunnel boring machines reached Parco Solari station, having undertaken a drive from Tricolore station which began in March 2019.
The breakthrough concludes excavation of a 15 km tunnel which will carry Line 4, the city's fifth metro line, from Linate Airport in the east to San Cristoforo main line station southwest of the city centre.
The TBMs were met at Parco Solari by local dignities including city Mayor Giuseppe Sala and Fabio Terragni, President of contractor M4 SpA. This consortium includes WeBuild, Astaldi, Ansaldo STS, AnsaldoBreda, Sirti and municipal operator ATM.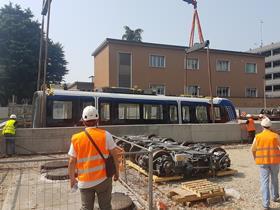 Hitachi Rail Italy has already delivered the first driverless trainset for M4, which took to the rails at Linate Airport station in July 2019. Hitachi is supplying 47 four-car trainsets from its Reggio Calabria factory.
The line is expected to open in phases, starting with the eastern section between Linate Airport and Forlanini railway station in January. The entire line is due to open in July 2023; ridership is forecast at 87 million passengers a year.