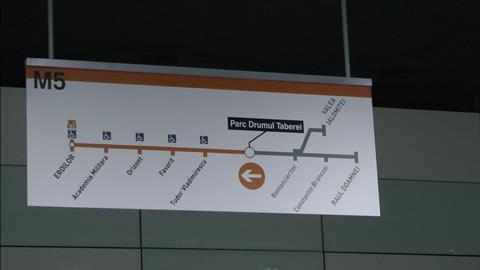 ROMANIA: București metro operator Metrorex has awarded Alstom a €100m contract to supply 13 trainsets for Line M5, with an option for another 17 which would take the value to an estimated €240m.
The order has been confirmed following the Court of Appeal's rejection of challenges against the decision which had been filed by rival bidders CRRC Qingdao Sifang and CAF.
The new trainsets are to be used on the initial 7·2 km 10 station Eroilor – Valea Ialomitei/Râul Doamnei section of Line M5, which opened in September alongside a fleet of eight six-car Bombardier Transportation Movia trainsets. The city plans to extend the line 11·5 km east to Pantelimon in two phases, with completion envisaged after 2030.
Alstom is scheduled to deliver the first of the trainsets within 29 months, with the other 12 from the firm order to follow immediately after type approval is obtained.
The six-car stainless steel trainsets from the manufacturer's Metropolis family will be 114 m long and 3 000 mm wide. They will have 216 seats in a longitudinal arrangement, two areas for passengers with reduced mobility and a total capacity of 1 200 passengers.
They will have four double doors per car per side, large windows, wide gangways, noise attenuation measures, LED lighting and real-time passenger information with dynamic route maps. CBTC compatible with the latest trackside signalling will be fitted.
The exact configuration, colours and finishes are to be finalised according to Metrorex's requirements.
'We are very proud of this award, especially as it will see Alstom trains running for the first time in Romania', said Gabriel Stanciu, Alstom Managing Director for Romania, Bulgaria & Moldova on November 3.