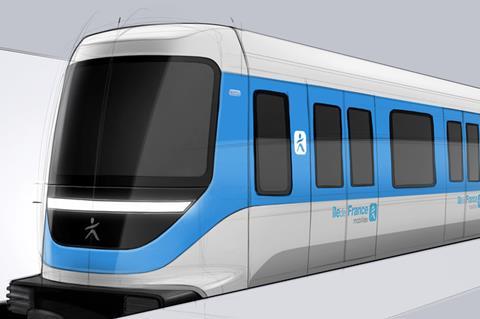 FRANCE: Alstom has been awarded a contract to supply rolling stock and automation systems for the future Grand Paris Express driverless metro Line 18.
The €230m contract announced on October 11 includes automation, data transmission and supervisory equipment and systems integration, with a firm order for 15 trainsets and options for 22 more which would take the total value to €400m.
Project promoter Société du Grand Paris is funding the control systems, while transport authority Île-de-France Mobilités is financing the rolling stock and onboard equipment.
The trainsets to be developed and produced at Alstom's Valenciennes Petite-Forêt site will be similar to the Metropolis trains ordered for lines 15, 16 and 17, optimising development time and costs.
Requirements for Line 18 include a high capacity and rapid passenger flow, with three wide doors per car and wide aisles to provide easy circulation. There will be multiple sources of light, USB sockets and 'numerous' passenger information systems including digital route maps. The trains will have a capacity of 498 passengers including 54 seated, and a maximum operating speed of 100 km/h.
Alstom's Saint-Ouen and Villeurbanne sites will supply the Urbalis Fluence CBTC based on direct train-to-train communication, Iconis centralised control for automated traffic management, and a data transmission system based on 'robust, proven products'.
Alstom said its CBTC is now in service on 68 metro lines worldwide and is to be deployed on a further 44, with 18 of these supporting fully automated driverless operation.
'After the Toulouse metro system, awarded to us last year, this contract award is further recognition of our expertise in integrated turnkey metro systems and digital mobility', said Jean-Baptiste Eyméoud, President of Alstom France.
The first stage of Line 18 between Massy-Palaiseau and CEA Saint-Aubin in the southwest of the Paris conurbation is scheduled to open in 2026, with extensions east from Massy-Palaiseau to Orly opening in 2027 and west from CEA Saint-Aubin to Versailles Chantiers by 2030, taking the line to 35 km with 10 stations.