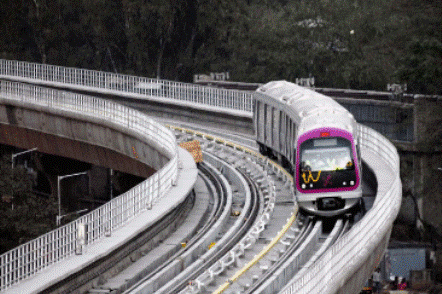 INDIA: Bengaluru metro agency Bangalore Metro Rail Corp has awarded Siemens Mobility and Siemens Ltd India a Rs2·48bn contract to supply communications-based train control to support unattended operation on the future Yellow Line.
Siemens Mobility said this would be the first CBTC project in India to be equipped for GoA4.
The Yellow Line will run 18·8 km between RV Road and Bommasandra, serving 16 elevated stations.
Siemens Mobility is to supply electronic interlockings, an automatic train protection and supervision system and telecoms to support minimum headways of 90 sec.
'Siemens Mobility is excited to partner with BMRC on this groundbreaking project that will provide this new rail line with the highest grade of signalling technology and automation services', said CEO Michael Peter on December 10. 'This will deliver a truly modern system featuring superior availability, reliability and passenger experience.'
The Bengaluru network, branded as Namma Metro, is being developed in stages. Phase 1 included the 18·1 km east – west Purple Line and 24·2 km north – south Green Line. The Yellow Line is one of two new lines being added under Phase 2, which also includes extensions at each end of the existing lines.