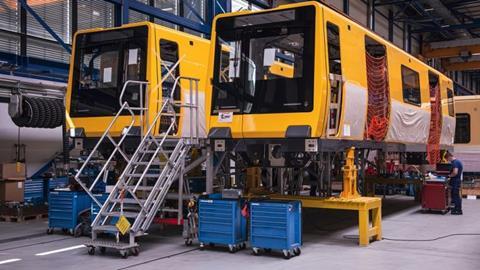 GERMANY: The construction of eight pre-series Type J and JK trainsets for the Berlin U-Bahn has started at Stadler's Pankow factory in the north of the city.
Stadler won an €3bn framework contract in March 2020 to supply up to 1 500 metro cars to Berlin operator BVG, with a minimum quantity of 606 vehicles of which 376 have so far been ordered.
The large-profile Type J sets for U-Bahn lines 5 to 9 are designed with pairs of driving and intermediate vehicles that can be configured to form two-, four- or six-car walk-through trains. The small-profile Type JKs for lines 1 to 4 will be two or four-car units that can run as six- or eight-car trains.
Stadler is initially building 12 pre-series cars of each type, with delivery to BVG planned for the end of 2022. The first 236 series-built large-profile and 140 small-profile vehicles are due to be delivered between the end of 2023 and 2025.
Bettina Jarasch, Berlin Senator for the Environment, Urban Mobility, Consumer Protection & Climate Action, said the new trains would offer increased comfort and significantly better accessibility than older trains, which would make U-Bahn travel 'far more attractive and bring us a step closer to the mobility revolution'.
BVG Operations Director Rolf Erfurt said the new trains would 'shape the image of the Berlin U-Bahn for decades to come'.