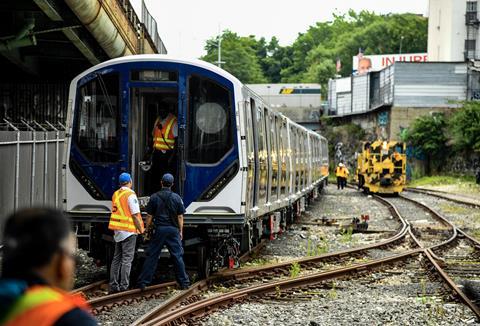 USA: Wabtec is to provide braking systems and couplers for 640 R211 metro cars that Kawasaki Rail Car is to supply to New York City Transit.
New York MTA ordered the 640 cars in October 2022 as an option on a January 2018 contract which included base order for an initial 535 cars. MTA has an option to order a further 437 cars.
Kawasaki is manufacturing the vehicles at its sites in Lincoln, Nebraska and Yonkers, New York, with most of the Wabtec equipment produced in Duncan, South Carolina.
Announcing the latest order on October 23, Wabtec said it would supply service-proven equipment providing interoperability with other fleets, with the commonality of brake control components offering maintainability and inventory advantages.
The 640 cars are scheduled for delivery in 2025-26 for use on the Subway's A and C divisions and the Staten Island Railway.