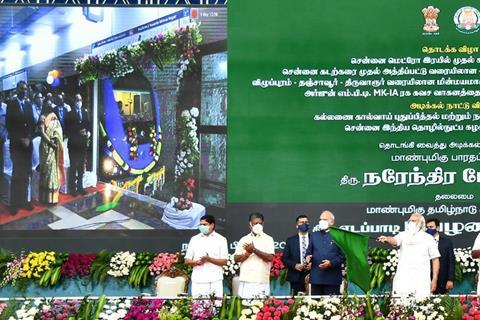 INDIA: Chennai Metro Rail's 9·1 km Blue Line extension was opened by Prime Minister Narenda Modi on February 14.
Running north from Washermanpet to Wimco Nagar, the extension serves the districts between the coast and Southern Railway's North Line. The Rs37·7bn project was authorised in 2016 as an addition to Phase I of the Chennai metro.
The Blue Line's 14·3 km tunnel section from Saidapet to Washermanpet, which was opened on February 10 2019, now continues for a further 2·5 km with underground stations at Thiyagaraya College and Tondiarpet.
The line then climbs onto a 6·2 km viaduct along Thiruvottriyur High Road with five elevated stations before terminating at Wimco Nagar, 200 m east of the mainline station. A maintenance depot has been built 0·5 km north of Wimco Nagar station.
The Blue Line is now 32·2 km long with 25 stations, with a journey from Wimco Nagar to Chennai International Airport taking about an hour.