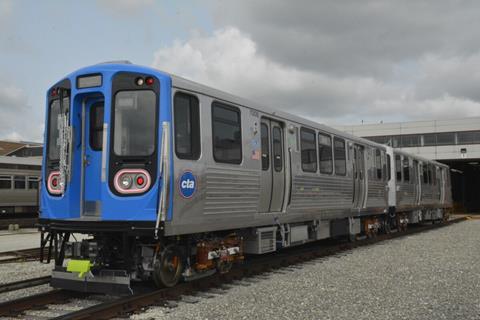 USA: Chicago Transit Authority has begun testing its 10 prototype Series 7000 metro cars in revenue service on the Blue Line between Forest Park and O'Hare International Airport.
Out-of-service testing began last year to evaluate the vehicles' performance in a wide range of weather and operating conditions. In-service testing is scheduled to continue until early 2022, when production of the remaining 390 cars is expected to begin.
The Series 7000 trainsets are CTA's first new metro cars since the introduction of the Series 5000 in 2011. The contract awarded in 2016 covers a base order for 400 cars, with options which could take the total build to 846 vehicles worth US$1·309bn.
The pre-series vehicles were produced at the CRRC Qingdao Sifang plant in China, although the rest are to be manufactured by CRRC Sifang America at a factory in the Hegewisch area of southeast Chicago.
'These new railcars are the latest step we're taking to build a 21st century transit experience, while also boosting the local economy through the creation of good paying, local jobs', said CTA President Dorval R Carter Jr on April 21.
The Series 7000 features 'bold' blue ends with a new head and tail light arrangement. The interiors have a mix of forward-facing and aisle-facing seats designed to maximise available space and passenger comfort, taking into account user feedback from surveys seeking to identify the best features of the existing vehicles.
The interiors have LED lighting, all-glass windbreak panels flanking the doors and 'plentiful' grab bars and straps. There are double-sided displays in the centre of the cars showing a moving map with the next stations, and information displays at both ends providing next stop information and accompanying text for the pre-recorded audio announcements. An 'express mode' feature for hearing-impaired passengers provides a visual indication of the next stop in the event of express running or a need to skip stations. There are distinct chimes for door opening and closing, and a hydraulic level control system supplied by Liebherr-Transportation Systems adjusts the height of the car floor to match the platform
The trains have touch-screen controls with improved operator notifications for troubleshooting assistance.