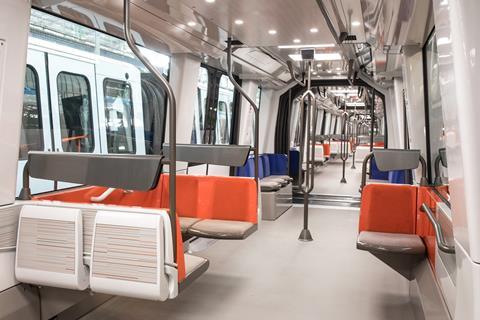 FRANCE: The first MP14 rubber-tyred automated metro trainset entered service on Paris Line 14 on October 12. One MP14 trainset will be in service until the opening of the extension from Saint-Lazare to Mairie de Saint-Ouen in December 2020, with 20 to enter service during 2021.
Manufacturer Alstom said the MP14 was designed to provide an optimal combination of performance, energy efficiency and ease of maintenance in order to keep costs under control throughout its lifecycle.
The modular interior can modified over time. The layout and seats are based on 'alcoves' to create conviviality and privacy, the entrances are designed for accessibility, and there are boomerang-shaped seats to improve passenger flow and capacity.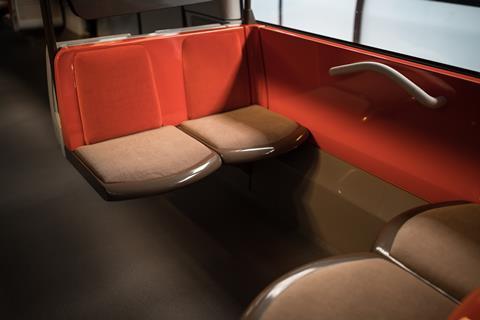 The MP14 is the first metro train to comply with accessibility regulations introduced in July 2019, with the eight-car version having 48 spaces for people with reduced mobility as well as two spaces for wheelchair users.
LED lighting is distributed throughout the train to minimise shadows, while the ventilation is designed to be warm or cool to provide a 'sense of wellbeing' whatever the season.
Regenerative braking both reduces energy consumption and limits the emission of fine particles from the mechanical brakes, with the train's overall energy consumption expected to be 17% lower than the MP05 fleet.
In March 2015 Alstom signed a framework contract for the supply of up to 217 metro trainsets, with a base order for 35 eight-car sets for Line 14 financed by Île-de-France Mobilités.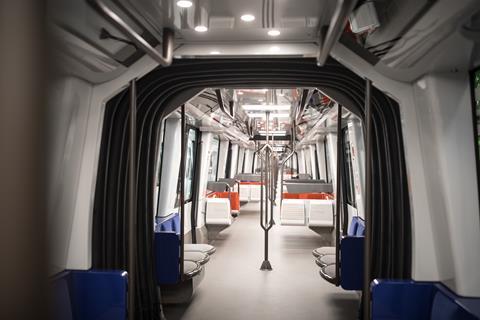 These are 120 m long, compared to the 90 m of the current fleet, to support a predicted increase in ridership from 500 000 to 1 million journeys/day in 2024 when headways could be reduced to 85 sec.
An option for 20 six-car sets for Line 4 was exercised in December 2016, followed in February 2018 by an option for 20 five-car sets for Line 11.
The sets for Line 4 are at the pre-production and testing stage, while manufacturing of the trains for Line 11 will begin in the last quarter of 2020 for testing in 2021.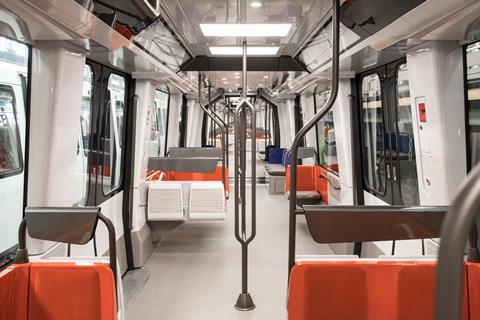 Eight of Alstom's 14 sites in France are involved in the MP14 project: Valenciennes is undertaking studies, integration, validation and testing; Le Creusot is supplying the bogies; Ornans the traction motors; Villeurbanne the onboard computer systems; Tarbes the traction equipment; Aix-en-Provence the safety systems; Reichshoffen is responsible for crashworthiness studies; and Saint-Ouen for the design.
'We are proud to see the MP14 metro running in Île-de-France after having designed and manufactured it in our centre of metro excellence in Valenciennes, with the contribution of seven other Alstom sites in France for the components', said Alstom Chairman & CEO Henri Poupart-Lafarge on October 13. 'A project like MP14 will make it possible to ensure production at eight Alstom sites in France and its suppliers until around 2026.'