CANADA: The first cars to be supplied by Alstom for the Réseau Express Métropolitain automated metro network in Montréal were formally unveiled by Groupe PMM on November 16.
Among the dignitaries attending the ceremony were Chantal Rouleau, Québec's Minister for Transport; Valérie Plante, Mayor of Montreal; Charles Émond, President & Chief Executive Officer of Caisse de Dépôt et Placement du Québec; and Souheil Abihanna, Managing Director of Alstom Canada.
Alstom is supplying 106 two-car trainsets from its Metropolis family, and four cars have so far been delivered to Montréal from its Sri City factory in India. The driverless trains are similar to those already in use on the Sydney metro, but adapted for Canadian winter conditions. The front end has been specifically shaped to prevent snow accumulation, and the cars have heated door thresholds, floors, and autocouplers, as well as ice protection equipment, heated windscreens and ice scrapers on the pantographs.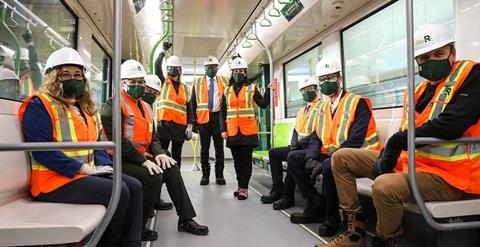 According to the manufacturer, the trains are designed 'to perfectly fuse with the green spaces of the city', offering passengers 'breathtaking views' through the large windows. The green and white livery selected by the public is inspired by the new Samuel De Champlain Bridge, with the headlights 'directly recalling' the stays of the bridge.
When complete, the 67 km REM serving 26 stations will be one of the world's largest automated metro networks. It will connect the south shore suburbs in the east with the city centre, while the western branches will run to the airport, Sainte-Anne-de-Bellevue and Deux-Montagnes. Opening of the first section is planned for mid-2021.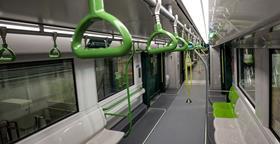 In April 2018 project promoter CDPQ Infra awarded the C$5bn infrastructure engineering, procurement and construction contract to the Groupe NouvLR consortium of SNC-Lavalin Grands Projets, Dragados Canada, Groupe Aecon Québec, Pomerleau, EBC and AECOM. The Groupe PMM consortium of Alstom Transport Canada and SNC-Lavalin is responsible for supply of the rolling stock and railway systems as well as operations and maintenance.