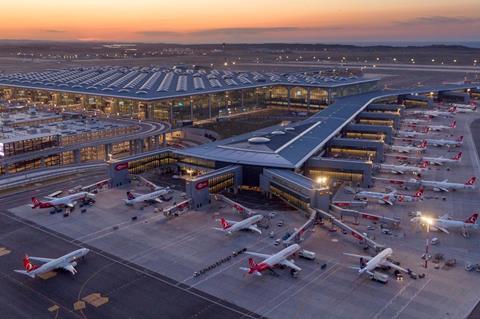 TURKEY: The Ministry of Transport & Infrastructure has awarded CRRC Zhuzhou Locomotive Co a contract to supply 176 metro cars for Istanbul Line M11, which will serve the city's new airport.
CRRC Zhuzhou was the sole qualified bidder for the tender which was opened on December 26, submitting a bid of TL1∙5bn. According to state tendering portal EKAP, CRRC is to supply the vehicles within 32 months of the contract date, which is stated as January 10.
The first two trains are to be delivered within nine months, followed by four more within 10 months and a further four by the end of the 11th month. A further 14 sets are to be delivered by the end of the 22nd month and the final set by the end of 32 months.
Once deliveries have been completed, the contract allows for a further 60 days of testing, followed by 60 days of trial operation. The manufacturer must also supply all maintenance and repair equipment within 23 months of the contract commencing.
The 37·5 km Line M11 is being built by a consortium of Kolin and Şenbay. Tracklaying began in January following completion of the bulk of the civil works, along with the start of installation of telecoms and CBTC and fitting out of the nine stations.
The line will be equipped for GoA4 (unattended) automated operation, with an operating speed of 120 km/h and a minimum headway of 300 sec. This will provide a 35 min journey time from the terminus at Gayrettepe to the airport.
Opening had originally been planned for November 2019, but this was later pushed back to August 2021. No official announcement has been made as to whether construction has been affected by the coronavirus pandemic and whether the opening will be further delayed.