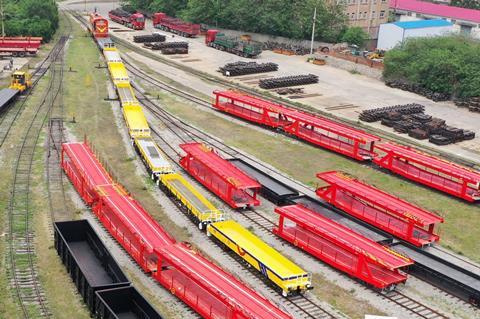 UK: Chinese rolling stock manufacturer CRRC Shandong has dispatched the first of 71 wagons ordered by London Underground for use on track renewal and maintenance trains.
Announcing the shipment of the first batch last month, CRRC said this was the first time that a European metro operator had ordered Chinese-built wagons. It believed that the UK, as 'the birthplace of the railway', would 'welcome Chinese-made wagons for the first time'.
The order placed in early 2017 covers 66 open and five flatbed wagons, along with technical support. The vehicles were specified to be suitable for operation on the national rail network as well as on London Underground lines; this means that they must will comply with European Union TSIs and UK Notified National Technical Rules as well as London Underground's standards.
CRRC said the wagons would feature 'innovatively developed' braking systems, couplers and bogies to meet the three sets of standards. The open wagons will have a low-floor structure to maximise the volume which can be carried within a restricted loading gauge, while the multi-functional flat wagons have movable side and end walls to enable then to be used to transport bulk materials.
Chinese suppliers entered the European wagon market in June 2011 when French leasing company Atir-Rail ordered 40 tank cars from CNR Jinan. This was believed to be the first European order for Chinese wagons since a build for Albania in the 1960s.