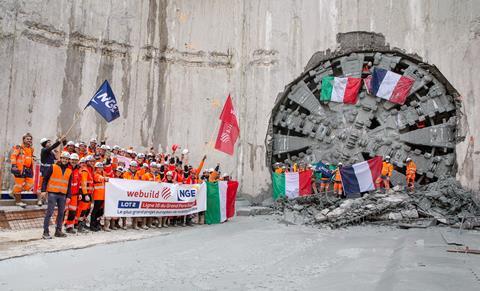 FRANCE: Celebrations at the site of the future Clichy-Montfermeil station on March 29 marked a milestone in the construction of automated metro Line 16 as part of the Grand Paris Express project.
After boring 2·2 km from the Bel-Air worksite in Chelles, tunnel boring machine 'Mireille' broke through into the station to be greeted by the mayors of Clichy-sous-Bois and Montfermeil as well as representatives of project promoter Société du Grand Paris. Local residents were able to watch the breakthrough on a giant TV screen near the station site.
This was the first breakthrough on Lot 2 of the line, which is being built by Webuild and NGE under a contract awarded in 2018. This covers the excavation of 11·1 km of tunnel between Aulnay-sous-Bois and Chelles and four stations. 'Mireille' will continue boring northwards for a further 3·1 km through Livry-Gargan to the Mare au Chanvre worksite at Sevran, where it is due to meet TBM 'Houda' which is boring south from Aulnay.
Serving the département of Seine-Saint-Denis, the 27·5 km Line 16 is scheduled to be completed by 2030, and to carry an estimated 200 000 passengers/day.
As part of the GPE programme, Webuild and NGE have already completed tunnelling works for the 4·1 km Lot 4 of the Line 14 South extension to Orly Airport, which is expected to open in 2024.