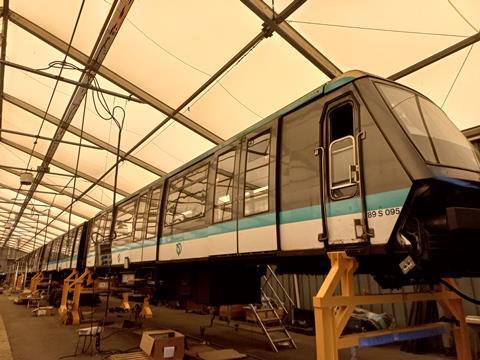 FRANCE: Work has started to modernise a fleet of 45 rubber-tyred MP89CC trainsets for use on Paris metro Line 6.
Built by Alsthom, the manually-driven trainsets were originally supplied for use on Line 1, but were displaced to Line 4 after the conversion of Line 1 to driverless operation. They are now being displaced again with the automation of Line 4. The modernised trains are intended to replace the 45 MP73 trainsets currently deployed on Line 6, which date from 1974.
Refurbishment of the MP89CC stock is being undertaken by ACC M at its plant in Clermont-Ferrand, at a cost of €25m.
Previously operated as six-car sets, the trains are being reduced to five cars to fit the station platform lengths on Line 6. This requires a reconfiguration of the Agathe information and control systems, as well as renewal of the electrical wiring, traction systems and bogies. New seats are also being supplied by Compin-Fainsa, although this is not included in the project cost.
A full renovation of Line 6 has been underway since 2018, with the aim of improving its reliability and service quality. Running for 13·6 km from Nation to Charles-de-Gaulle-Etoile via an interchange with RER Line B at Denfert-Rochereau, the line has 28 stations. It is widely regarded as archetypal of the Paris metro network, because of its elevated section and Passy viaduct passing close to the Eiffel Tower.
As part of the upgrading, a new Octys train control system is being installed, with the lineside equipment coming from Hitachi Rail and the onboard systems from Alstom.
Work on refurbishment of the line's Italie depot was completed in June. As well as a full modernisation of the workshop, this has included a remodelling of the stabling facilities, and the construction of new pit roads for maintenance of the future rolling stock. A new building has been erected to house the operations control centre for Line 6, as well as improved staff facilities.