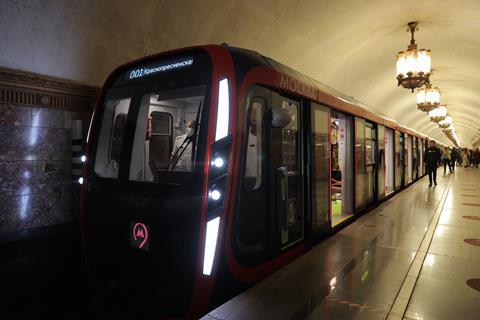 RUSSIA: Moscow Mayor Sergei Sobyanin inaugurated the metro's next generation of rolling stock on October 6, when the first eight-car Moskva-2020 trainset was unveiled on Line 5.
The metro is set to acquire more than 1 300 Moskva-2020 cars from TMH Metrowagonmash over the next three years, for use on the circular Line 5, outer orbital Line 11 and the Kaluzhsko-Rizhskaya Line 6. The new stock will reduce the average of the capital's metro fleet from 15 to 10 years. 'We started to renew the rolling stock in 2010 and now we have one of the youngest fleets amongst the world's metros', said Sobyanin.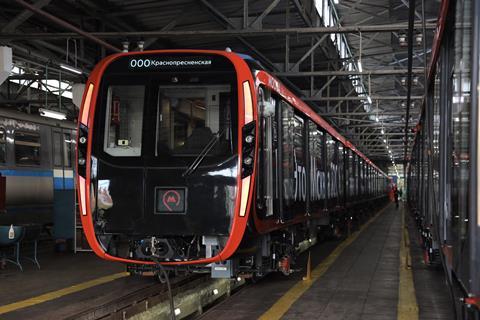 The Moskva-2020 design has 1 600 mm wide doorways, a 15% increase from the older trains, while inter-car gangways have been widened by 57% to 1 600 mm. The trains also feature a more modern passenger information system, with larger above-door LCD screens including line diagrams, overhead data displays, wall-mounted LCDs and touchscreens for plotting routes, as well as laterally-mounted route indicators on the exterior carbody.
The number of USB sockets for recharging mobile devices has been increased five-fold from 72 to 320 per train, with each seat having its own charger. The trains are also 15% quieter than legacy fleets.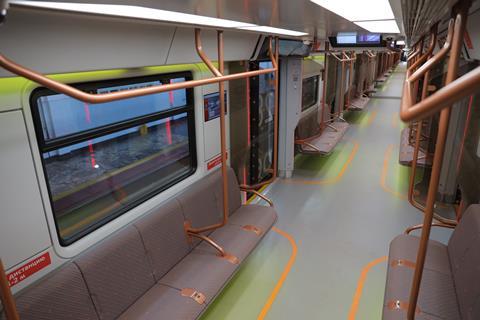 There are eight CCTV cameras per carriage, as well as equipment for communicating with the control centre that can receive video and audio information.
Each car has two automatic air filtration units built into the climate control system, which use germicidal ultraviolet lamps.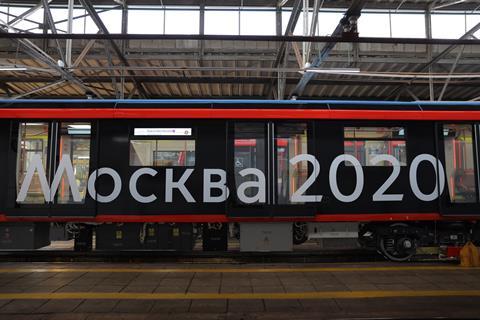 Sliding rather than plug doors are used, with LED strips to indicate that the doors are opening or closing, and a larger pane of glass to create the impression of more space.
The cabs are accessed using personalised drivers' key cards that activate the control and safety systems. The number of buttons on the driving desk has been reduced through the use of wide-format touch-screen monitors.