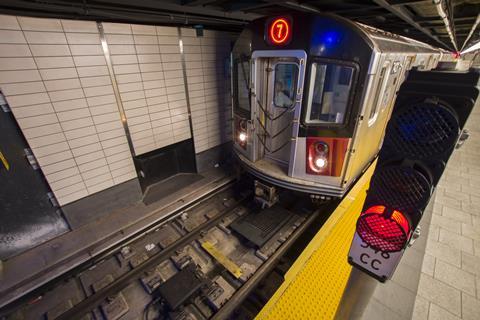 USA: Platform screen doors are to be installed at three Subway stations in New York as part of the Metropolitan Transportation Authority's efforts to improve the safety of the metro network.
MTA Chief Executive Janno Lieber told local radio on February 23 that PSD trials are to take place at Times Square on the 7/Flushing Line, at 3rd Avenue on the L/Canarsie Line and at Sutphin Boulevard-Archer Avenue-JFK in Queens, where there is an interchange between the E Train and the AirTrain peoplemover serving the airport.
Lieber suggested that while the design and curvature of many Subway stops would preclude the installation of PSDs, there were many stations where it could be fitted. A survey by MTA of the city's 472 Subway stations found that only 41 could be retrofitted with PSDs today, and another 87 would be feasible once the network's rolling stock designs have been sufficiently harmonised, expected by 2033. The three sites chosen represent a mix of different platform configurations that serve a high volume of riders, MTA said.
'We're also going to be piloting new technologies to detect track incursion using thermal technology, using laser technology, so we can know quicker when people get on the tracks and hopefully, interdict that kind of behaviour', he added, in reference to a rise in trespass incidents on the Subway since the end of Covid-19 restrictions had brought ridership back.
On December 10 last year, MTA launched a Track Trespassing Task Force to study options aimed at reducing trespass incidents, which have increased by 20% across the Subway and commuter rail network in 2019-21. This resulted in 68 fatalities last year.