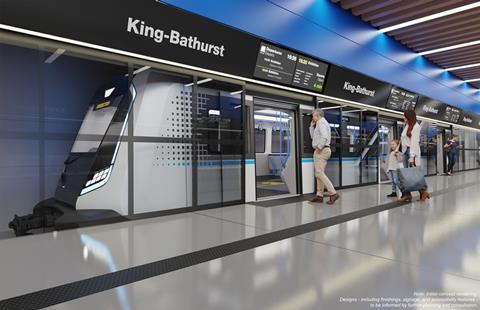 CANADA: Infrastructure Ontario and Metrolinx have formally awarded the Connect 6ix consortium the Rolling Stock, Systems, Operations & Maintenance contract for the 15·6 km Ontario Line metro project in Toronto.
The consortium was named preferred bidder for the design, build, finance, operate and maintain contract in September, and the contract was formally awarded with financial close on November 17.
Rolling Stock, Systems, Operations & Maintenance contract
Preferred proponent
Connect 6ix
Applicant lead
Plenary Americas, Hitachi Rail STS, Webuild Group (Salini Impregilo Canada Holding), Transdev Canada
Design team
Hitachi Rail STS Canada, IBI Group Professional Services (Canada)
Construction team
Hitachi Rail STS Canada, Webuild Group (Astaldi Canada Design & Construction and Salini Impregilo Civil Works), NGE Contracting
Operations, maintenance & rehabilitation team
Hitachi Rail STS Canada, Transdev Canada
Financial adviser
National Bank Financial, Sumitomo Mitsui Banking Corp
Contract structure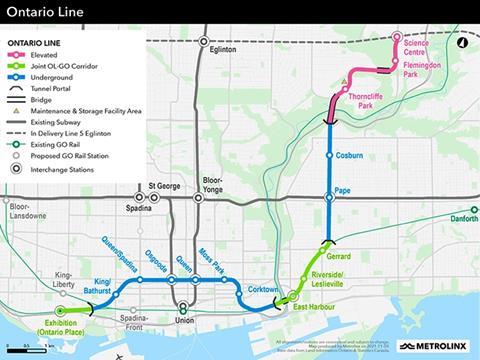 The RSSOM public-private partnership contract is designed by Infrastructure Ontario to transfer 'appropriate' design, construction, financing, operations and maintenance risks to the private sector. It is valued at C$9bn, including C$2·3bn for capital costs and $6·7bn for short-term construction financing and transaction costs, rolling stock, 30 years of operations and maintenance, and long-term financing.
'This approach involves the operator at the earliest stage of the design process and ensures the sustainability of the system over the long-term', said Arthur Nicolet, CEO of Transdev Canada. 'Being awarded a 30-year commitment to operate the line, we are more than keenly interested in ensuring the final product delivers on all of the expectations for riders.'
The consortium expects to create 800 jobs, with recruitment to begin immediately, ahead of the start of construction in 2023. Completion is planned for 2031.
Driverless trains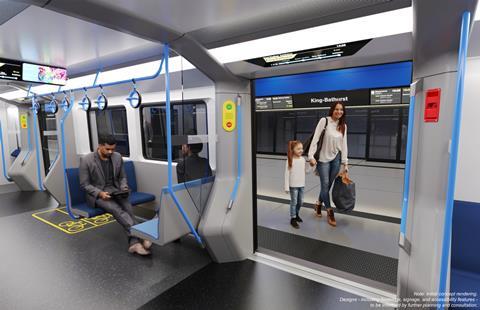 Hitachi Rail said it would draw on its extensive international experience to supply 'state-of-the-art' driverless trains with a maximum speed of more than 80 km/h, wi-fi, digital information screens, charging points, bicycle spaces, double wheelchair areas, through gangways, regenerative braking, and heating and cooling throughout.
CBTC will support grade of automation 4 unattended operation with headways down to 90 sec, providing a capacity of up to 30 000 passengers/direction/h.
The contract also includes the depot and control centre, as well as fare collection systems, wi-fi, information screens and platform edge doors at the stations.