RUSSIA: Samara Metro has taken delivery of another four-car trainset from Transmashholding's Metrowagonmash factory, augmenting the 46-car fleet used on its single 11·6 km line.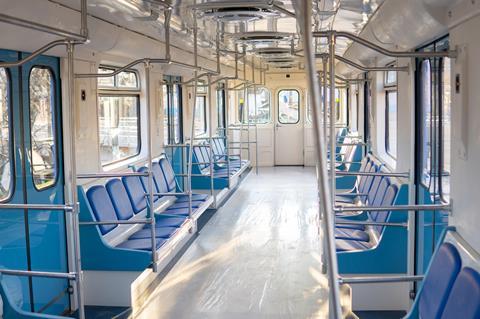 Ordered in October 2019, the extra train is the 'latest and most advanced' variant of the 81-717/714 design, according to TMH. The 81-717.b/714.b series was first produced in 2009, as a derivative of the design which is widely used by metro operators across the CIS and Eastern Europe.
The latest variant offers an updated driver's cab which is 30% more spacious than earlier versions, with climate control systems, soundproofing, improved aerodynamics and emergency ramps. The driver's seats have a pneumatic antivibration mounting and can be adjusted in three dimensions.
The interior saloons have forced air ventilation with an emergency mode, modernised interior trim, glass fibre frame seats, revised lighting, stainless steel horizontal and vertical handrails and CCTV. The driving cars include accessible areas designed for passengers with reduced mobility.
The doors have warning lights to signal the closing sequence, and the mechanisms have an anti-pinch function to detect obstacles.
The electrical equipment and bogies are intended to last for an operational life of 31 years.