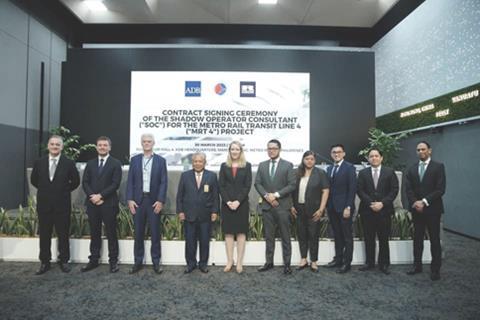 PHILIPPINES: The Department of Transportation has appointed Ricardo and Seoul Metro to provide advice from an operator's perspective to support the development of Manila metro Line 4.
The planned 15·6 km elevated line will run from Quezon City to Taytay with 11 stations, serving the Mandaluyong, San Juan, Quezon and Pasig areas in the east of Manila and the densely populated Cainta and Taytay areas of Rizal province.
Transport Secretary Jaime J Bautista said the line is planned to solve 'the perennial traffic problem along the stretch of Ortigas Avenue'. Bringing in external expertise would 'help elevate MRT-4 operations to international standards', he added.
Ricardo will act as Shadow Operations Consultant, providing technical input from the viewpoint of the operating concessionaire which will eventually be appointed to run the line.
This will include advice on optimising whole-life costs, technology and design recommendations that will influence future staffing requirements, identifying operational risks and safety hazards, developing passenger flow models, and advising on recruitment, rostering and work scheduling.
Ricardo will also advise on meeting the performance, safety integrity, life-cycle cost and environmental safeguards required by the Asian Development Bank as part of its financing agreement for the project.
Seoul Metro will provide advice drawing on its direct experience of daily operations.
Ricardo Technical Director Andrew Mackay said 'as well as leveraging our considerable international expertise, including the proven partnership we have built with Seoul Metro whilst performing the Shadow Operator role for Sydney Metro, we will bring a whole-of-life perspective to ensure that the needs of future operators, maintainers and customers are fully accounted for during every stage of the project'.