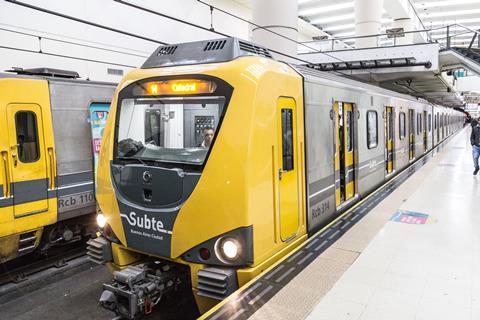 ARGENTINA: Buenos Aires metro authority SBASE has selected Siemens Mobility to install Communications-Based Train Control and a new passenger information system on the capital's Line D.
SBASE began work in 2016 on a comprehensive modernisation of the 11 km line, which runs from Catedral station in the central Plaza de Mayo to Congreso de Tucumán in the north of the city, serving 16 stations. This includes air-conditioning of the rolling stock fleet and substation renewals, and is being part-funded by a US$105m credit from the European Investment Bank.
Siemens, Alstom and Benito Roggio had originally bid for the Line D resignalling, but SBASE re-called tenders last year after the bids came in above budget, dropping its plan to install platform screen doors. Assessment of the revised technical and financial bids had been scheduled for the first quarter of this year, but was delayed by the coronavirus.
The contract announced on July 17 will see Siemens Mobility install electronic interlockings and other lineside equipment for the radio-based CTBC, as well as retrofitting onboard units to 24 existing trainsets. The modernised line will be managed from the metro's newly-established operations control centre.
Siemens will supply its Trainguard MT technology, which has been in use on Line H since mid-2016 and was commissioned on Line C in February. This will replace an Alstom automatic train protection system that has been in use on Line D since 2008. The CBTC will support attended ATO to Grade of Automation 2 and enable trains to operate at 135 sec headways, increasing capacity on the line by an estimated 30%, or 67 000 passengers/day. Installation is expected to start before the end of this year for completion by the beginning of 2023.
'This important project further underscores our leading position in delivering automated signalling systems, and expands our growing footprint in South America', said Siemens Mobility CEO Michael Peter. 'The state-of-the-art technology will augment operations on this line and allow for an enhanced passenger experience.'