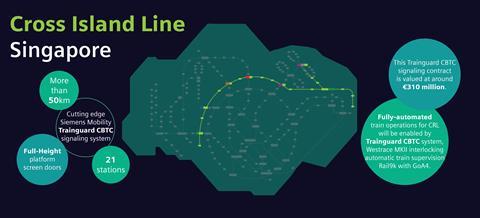 SINGAPORE: Land Transport Authority has awarded a €310m contract to Siemens Mobility to provide its CBTC signalling system and full-height platform screen doors on the Cross Island Line.
Construction of CRL1, the first phase of Singapore's eighth fully underground metro line, started in January 2023.
Siemens is to implement CBTC and platform screen doors on all three phases of the route. CRL1 covers a 29 km section from Aviation Park to Bright Hill with 12 stations. CRL2 would be 15 km long linking Bright Hill with Jurong Lake District, adding six stations. The third phase would cover the 7·3 km Punggol extension that is planned to connect Pasir Ris to Punggol with two intermediate stations.
Siemens is to deploy its Trainguard CBTC, Westrace interlockings and Rail9k automatic train supervision equipment. The system will allow automation to GoA4 for fully unattended operation.
'We are delighted to have the opportunity to build on our existing technology partnership with Singapore's Land Transport Authority in its continued efforts to effectively manage their urban development', said Michael Peter, CEO of Siemens Mobility. 'With our regional base in Singapore, this signalling project will be one of the steppingstones for our long-term goal of making a sustainable impact on the mobility landscape in Asia.'