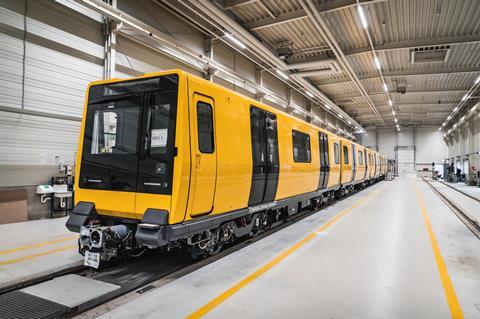 GERMANY: The first small-profile Type JK metro trainset for the Berlin U-Bahn network has been unveiled at Stadler's Velten plant northwest of the capital.
Operator BVG finalised a €3bn framework contract with Stadler in March 2020 for the supply of up to 1 500 vehicles, with a firm order for an initial build of 376. These will be supplied in two variants: small-profile Type JK cars for U-Bahn lines 1 to 4 and large-profile Type J for lines 5 to 9.
The initial order covers 140 small-profile vehicles formed of 17 four-car and 36 two-car units, plus 236 large-profile vehicles formed as 33 four-car and 52 two-car sets. BVG typically operates eight-car trains on its smaller profile lines and six-car trains on the larger routes.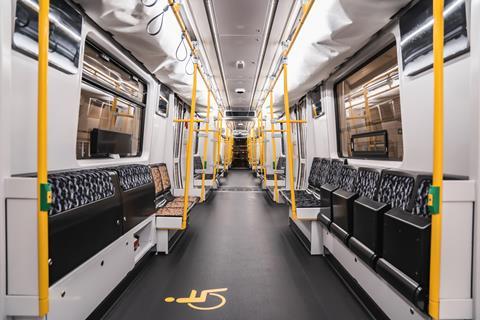 The JK vehicles have 2 400 mm wide bodies. A 25·8 m long two-car set will be able to carry up to 142 passengers including 28 seated, while a 51·6 m long four-car set will have capacity for 310 including 88 seated. Each vehicle will have three axles motored, with a 1A'Bo' configuration; the 90 kW traction motors will give a continuous rating of 540 kW for the two-car sets and 1 080 kW for the longer units.
'The expectations of our new trains are high', said BVG Operations Director Rolf Erfurt on November 11. 'Here in Velten, the vehicles can really be experienced as a whole for the first time. We can already see that the sense of space inside is significantly more generous than in the previous vehicles, thanks to many innovations.
'Now it is important that all technical components are combined in high quality and prepared for the test phase. One thing is certain for us: a high level of comfort for our passengers and technical reliability in operation must be met in order to make the U-Bahn an even more popular and efficient backbone for Berlin's local transport system in the coming decades.'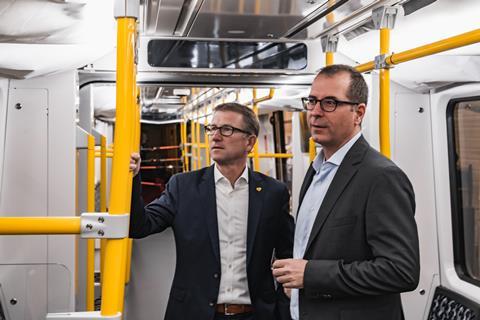 Stadler Deutschland CEO Jure Mikolčić added that 'the commissioning of the first vehicles of a new series is a significant milestone in the entire production process – even more so when it comes to tailor-made trains like those for BVG. A Berlin U-Bahn train consists of around 4 600 individual components that have been put together for the first time in this train. Our entire focus is now on the precise commissioning of the new trains for Berlin, in order to get the test vehicles on the rails as quickly as possible. To this end, the project teams from Stadler and BVG are working closely together.'
Commissioning of the first pre-series train began in October. Following the completion of test running, it is expected to be handed over to BVG in the spring of 2023. The production trainsets are due to be delivered from the beginning of 2024.