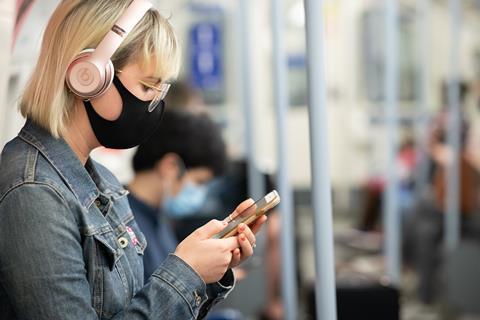 UK: Transport for London's current extraordinary funding agreement with the Department for Transport has been extended to July 13.
The extension was announced in the late afternoon of June 24, hours before the agreement in place since February 26 was about to expire; this was the fourth package of government support agreed since the coronavirus pandemic caused a collapse in ridership at TfL, which is more heavily dependent on fares revenue than comparable operators around the world.
The extension came amidst increasingly acrimonious rival announcements about TfL's future from Conservative Secretary of State for Transport Grant Shapps and Labour Mayor of London Sadiq Khan.
Responses
Following confirmation of the extension, a Transport for London spokesperson said 'it is essential London receives the sustained long-term government funding that is vital for the coming years if a period of managed decline of London's transport network is to be avoided. We have worked hard to progress all conditions placed on TfL, and continue to believe that we have met them all.'
Shapps tweeted 'to reach a long-term settlement that is fair to taxpayers, we must have all required info from TfL and the Mayor, which we have repeatedly asked for. TfL has asked for an extension to do this, which we have today granted.'
Khan said 'with the long-term capital funding deal London desperately needs still not forthcoming, TfL has been left with no choice but to begin imminent preparations for a managed decline scenario which will mean further cuts to services.
'Time is running out and that is why I am once again urging the government to meet with me so that we can finally agree a sustainable, long-term funding deal that will protect not only London's economic recovery, but that of the whole country.'
Manuel Cortes, General Secretary of the TSSA union, called the extension 'negligent and disgraceful', saying it was causing 'deliberate damage' to London 'and the chances of a wider economic recovery from Covid'.
Railway Industry Association Chief Executive Darren Caplan said 'today's extension marks the 11th stop-gap funding settlement between the government and TfL in just over two years', and 'the longer this cycle of short-termism goes on, the harder it will be to affordably maintain and build the capital's transport system, and support not just London's economy into the future, but also the wider UK's.'
Transport for London government support agreements resulting from the coronavirus pandemic
Start
End
Support
May 15 2020
October 17 2020
UK government agrees the first funding package, an extraordinary support grant of £1·095bn and a loan of £505m to support continuity of operations at TfL
October 18 2020
October 31 2020
Higher than anticipated ridership means the existing package is sufficient for a two-week extension, agreed on October 16 2020
October 18 2020
March 31 2021
H2 package agreed and backdated: government approves an extraordinary support grant of £905m, and incremental borrowing by TfL of £95m
April 1 2021
May 18 2021
H2 package extended to cover the period of the elections for the Mayor of London
May 18 2021
May 28 2021
H2 package extended by a further 10 days, with a payment of £65m and a top-up grant available based on actual passenger revenues
May 29 2021
December 11 2021
Third funding package; the six-month H3 deal reached on June 1 provides an extraordinary support grant of £1·08bn, with top-up grants if revenues are lower than forecast and TfL repaying any excess; this provides TfL with certainty that it will receive revenues of £1·78bn on top of the £1·08bn grant
December 11 2021
December 17 2021
Funding Package is extended; terms amended to define the funding period as May 29 2021 to December 17 2021.
December 18 2021
February 4 2022
Further extension announced on December 17 2021.
February 4 2022
February 18 2022
Further two-week extension agreed on February 4. Provisions remain materially the same, including the top-up grant mechanism.
February 18 2022
February 25 2022
One week extension announced on February 21 after Transport for London asked for time to consider a funding deal proposed by the government.
February 26 2022
June 24 2022
Fourth funding package.
June 25 2022
July 23 2022
H4 package extension announced on June 24.