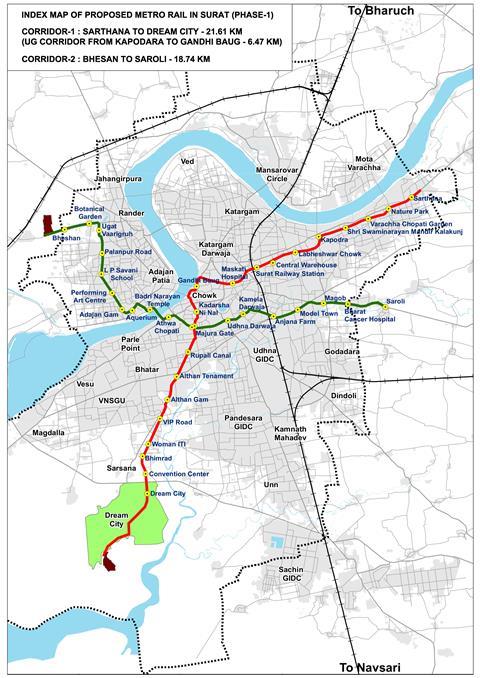 INDIA: Gujarat Metro Rail Corp has called tenders for the design of two elevated sections of the first phase of a metro in Surat.
Line 1's eastern section from UG Ramp Kapodra northeast to Sarthana would run on viaduct for 4·4 km with four stations, whilst the entire 18·7 km Line 2 between Bhesan in the northwest and Saroli to the east is planned to be elevated with 18 stations.
Tendering for design of the remaining 17·2 km of Line 1 will follow later, covering a tunnelled section west from UG Ramp Kapodra via the main line station to Gandhi Baug in the city centre (6·5 km), then on an elevated alignment southwest to Dream City. Interchange between the two lines would be at Majura Gate, with depots to be located at Bhesan and Dream City.
The national government approved the 40·3 km, two-line Surat metro on March 11 2019. Surat is 230 km north of Mumbai in Gujarat, with a population of 5·9 million.