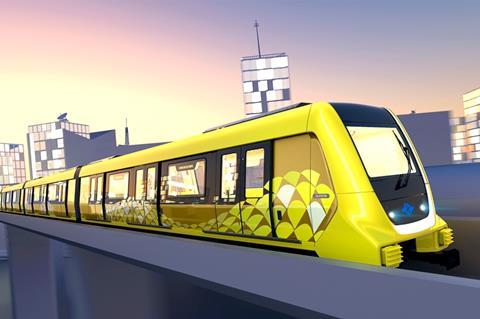 TAIWAN: Taipei City Government has awarded a consortium of Alstom and CTCI a €720m contract to supply rolling stock and railway systems for Phase 2 of the Taipei Circular Line driverless metro.
The 15·4 km 14-station Phase 1 of the Circular Line was opened in January 2020. Phase 2 will add a 14·9 km northern section from New Taipei Industrial Park to Jiannan Road with 12 underground stations and one depot, and a 5·7 km southern section from Dapinglin to Taipei Zoo serving another six underground stations.
Scheduled for completion in 2031, these extensions will join the current section of the Circular Line to link the Red, Blue, Orange, Green, Brown and Taoyuan Metro Airport lines, forming a ring in combination with the Brown Line.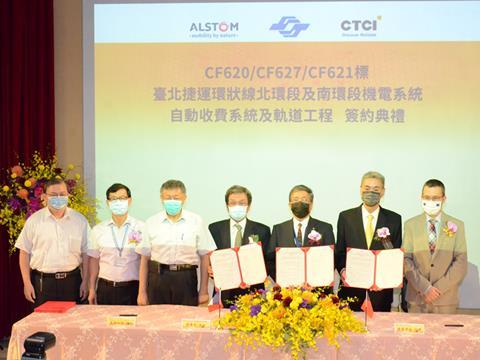 Local contractor CTCI will lead on the trackwork, power supplies, depot equipment, telecoms and ticketing systems.
'Through this project, CTCI aims to provide an opportunity for accelerating local rail technology development and industry integration by encouraging more local component and parts suppliers to get onboard', said CTCI Chairman Michael Yang when the contract was announced on September 30.
Consortium leader Alstom's values its share of the contract at more than €430m. This includes the supply of 29 four-car fully-automated Metropolis trains, Urbalis 400 communications-based train control, SCADA and platform screen doors, as well as upgrading the signalling on Phase 1.
The trains will be supplied from Alstom's Taubaté facility in Brazil and the signalling from Bologna in Italy, supported by sites at Bengaluru in India, Saint-Ouen, Le Creusot and Ornans in France and in Taipei. Project management and system integration will be managed locally with the support of Alstom's turnkey engineering centre.
'This contract is a vote of confidence in our internationally proven and quality mobility offering, and a testament to our team's hard work over the last four decades towards making rail transport even more sustainable for the capital city of Taiwan', said Ling Fang, Alstom's President for the Asia-Pacific region. 'It also cements our position as sole signalling supplier for the entire Metro Taipei network. Overall, this is an example of how the Asia-Pacific market remains dynamic and we aim to maintain our market leadership across most segments.'
This is the Alstom-CTCI consortium's second turnkey metro project in Taiwan after the Wanda – Zhonghe – Shulin Line Phase 2 Extension contract awarded in August 2020. It also includes an option for the supply of systems for Phase 3 of the Circular Line.