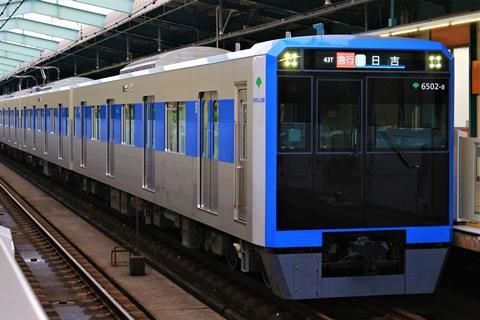 JAPAN: Tokyo Metropolitan Bureau of Transportation's Series 6500 trainsets have begun entering service on the Toei Subway's Mita Line between Nishi-Takashimadaira and Shirokane-Takanawa.
The Kinki Sharyo trainsets have Mitsubishi Electric traction systems incorporating VVVF inverters with silicon carbide semiconductors. They are the first Toei Subway trains equipped to transmit operating information to the depot to support maintenance.
The vehicles are designed to be more accessible for passengers with wheelchairs, pushchairs and large luggage than older trains, with wide vestibules for smooth peak time passenger flows, wide seats and more hanging straps, handrails and luggage racks.
The information systems have multilingual LCD screens to meet the needs of foreign visitors as well as daily commuters, and other featuires include free wi-fi, energy-saving LED interior lighting, and CCTV.
The fleet began entering service on May 14. All 13 trainsets are expected to be in service by the end of the year, operating on the Mita Line and running through to Hiyoshi on the Meguro Line.