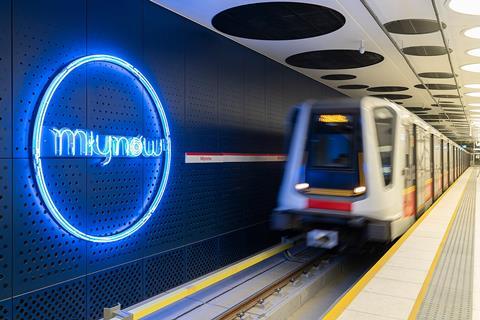 POLAND: Warszawa's M2 metro line was extended by 3·4 km west from Rondo Daszyńskiego to Księcia Janusza on April 4. The opening was low-key owing to coronavirus travel restrictions, with regular operations starting at 04.45.
Running tunnels up to 15·2m deep serve intermediate stations at Płocka, Młynów and Księcia Janusza.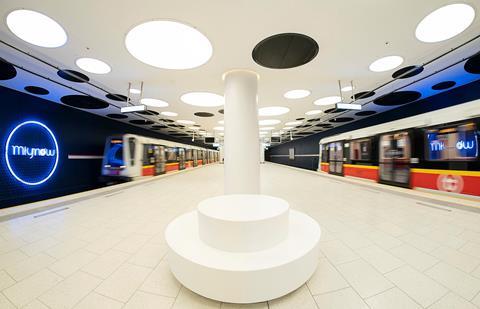 Main contractor Gülermak Ağir Sanayi İnşaat ve Taahhüt was awarded a Złoty 1·148 bn contract to build the Wola extension on September 29 2016, 75% financed by EU Cohesion Fund under the Operational Program Infrastructure & Environment 2014-2020 signed on September 23 2016.
Groundbreaking took place on November 25 2016 and work was completed on November 29 2019.
The 12·6 km east-west Line M2 now extends from Trocka to Księcia Janusza with 13 stations. It is operated by 20 Siemens Inspiro trainsets. The central section of line from Dworzec Wileński west to Rondo Daszyńskiego opened on March 8 2015, interchanging with north-south line M1 at Świętokrzyska. It was extended east to Trocka on September 15 2019.
Metro Warszawskie plans to open a two-station western extension to Bemowo and three-station eastern extension to Bródno by 2022, as well as additional a further western extension in 2023. Construction contractors for all three sections are Astaldi and Gülermak.