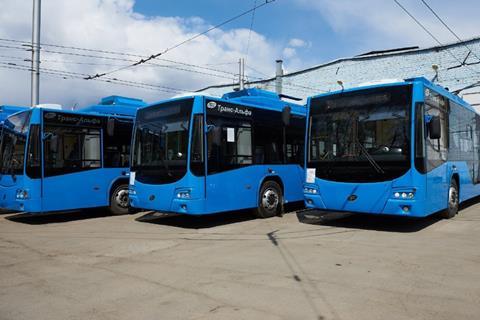 RUSSIA: St Petersburg tram and trolleybus operator Gorelektrotrans has placed orders for 55 new trolleybuses as part of a programme to update its extensive fleet. Deliveries are expected in May and June 2020.
Trading company Promagroleasing has been awarded a 610m rouble contract to deliver 20 Belarus-built vehicles, 18 m long and 100% low-floor. These are expected to be of type MAZ-215 from MAZ or BKM-333 from Belkommunmash.
In addition, Sberbank Leasing will deliver 35 shorter 12 m trolleybuses valued at 711m roubles; these are required to have an off-wire range of not less than 15 km. They are likely to be VMZ-5298 Avangard vehicles manufactured by Trans-Alpha in Vologda, similar to the vehicles that Trans-Alpha has recently supplied to Krasnodar.