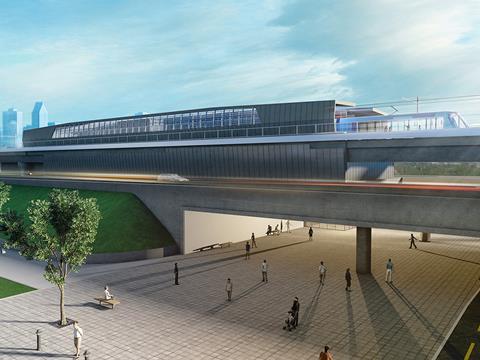 CANADA: CDPQ Infra announced the winning bidders for the construction and operation of the Réseau Électrique Métropolitain automated metro project in Montréal on February 8.
Construction is due to start in April, with testing to start at the end of 2020 and passenger services on the first branch beginning in mid-2021. The 67 km network would link the south shore suburbs, the city centre, the airport, Sainte-Anne-de-Bellevue and Deux-Montagnes.
Groupe NouvLR has been selected for the infrastructure engineering, procurement and construction contract. This consortium comprises SNC-Lavalin Grands Projets, Dragados Canada, Groupe Aecon Québec, Pomerleau and EBC, with SNC Lavalin and AECOM Consultants also participating.
The rolling stock, systems, operations and maintenance contract would go to the Groupe des Partenaires pour la Mobilité des Montréalais consortium of Alstom Transport Canada and SNC-Lavalin O&M.
Construction is estimated to cost C$6·3bn, to be met through a mix of federal and provincial funding, as well as money from public pension and insurance investor Caisse de dépôt et placement du Québec.
Around 65% of the project would use local content. CDPQ Infra is to create the InfraMtl.co subsidiary that will own the Mont Royal tunnel, Viaduc du Sud and the rail infrastructure at Central Station. It will also maintain these facilities, which will be shared with other operators.