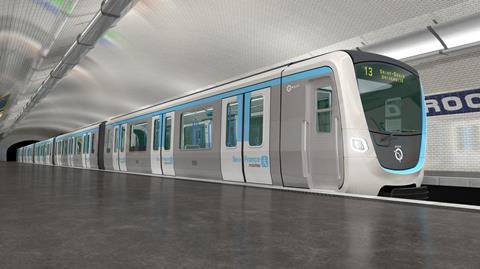 FRANCE: Île-de-France Mobilités and RATP have selected a 50:50 consortium of Alstom and Bombardier to supply up to 410 trainsets to operate on the Paris metro.
The contract announced on November 29 includes a base order worth €530m for 30 five-car walkthrough trainsets 76 m long for Line 10, and 14 four-car trains for lines 7b and 3b, which will be 60·9 m long. The steel-wheeled MF19 trains are due to enter service in 2024-26. Rolling stock from the options would be used to replace the current fleets on lines 13, 12, 3, 8 and 7.
Assembly will take place at Alstom's Valenciennes site and Bombardier's Crespin factory. Traction equipment will be supplied by Alstom from its Ornans and Tarbes sites, and Alstom will also supply electronics from Villeurbanne and IT safety systems from Aix-en-Provence. Bombardier will be responsible for mechanical equipment including bodyshells and bogies, as well as HVAC equipment.