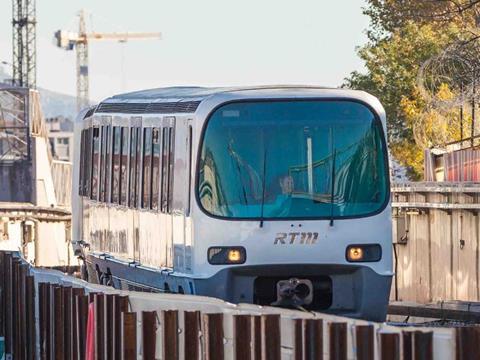 FRANCE: Alstom is to supply trains and signalling for the conversion of the Marseille metro to fully driverless operation, the manufacturer announced on November 26.
The €430m contract, financed by local authority Métropole Aix-Marseille-Provence, will see both lines of the city's rubber-tyred metro move to driverless operation by the end of 2026. In 2016 Parsons and Assystem were appointed as project managers for the automation programme under a €29·1m contract.
Alstom will supply its Urbalis 400 CBTC signalling, as well as a fleet of 38 four-car rubber-tyred trainsets. Scheduled to enter service from early 2024, these will eventually replace the current fleet of 36 trainsets, the oldest of which date from the opening of the initial section of the metro in 1977.
Alstom says that the trains will initially operate with drivers in 'semi-automatic mode' until mid-2025 on Line M2 and until 2026 on Line M1.
The 65 m long walk-through trainsets will have capacity for 500 passengers at 4/m2, and will be equipped with air-conditioning and a passenger information system. Marseille-based designers Ora-ïto and Fabien Bourdier are responsible for the styling.