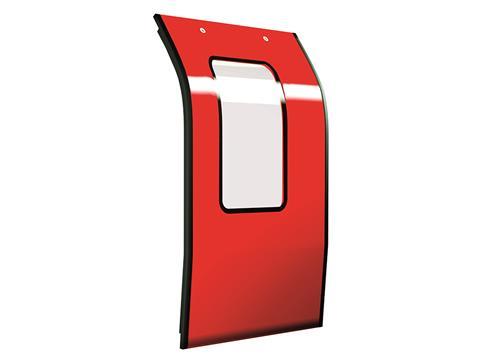 DOOR: TRB Lightweight Structures has developed a biocomposite resin based carbon fibre reinforced sandwich panel door leaf with a 100% recycled foam core which is fire rated for both surface and underground rail use.
This is lighter than an aluminium equivalent, can be operated using a less heavy duty mechanism and offers the potential for faster opening. It has a 40 year life expectancy.
The resin is derived from a renewable alcohol produced from a natural waste by-product from refined sugar production, which is non-toxic and does not use volatile organic solvents. The foam core is produced from 100% recycled consumer plastic. Other matrix options with glass fibres, natural fibres or aramid fibres can be custom made on request.
'We initially developed this biocomposite product for rail door leaves, but it could be used for other mass transport interior applications', said TRB Chief Engineer Lyndon Newman. 'We have brought aerospace prepreg technology to our rail customers and can now offer them a truly "green" material design option that is 35% lighter than a bonded aluminium door at a comparable cost.'