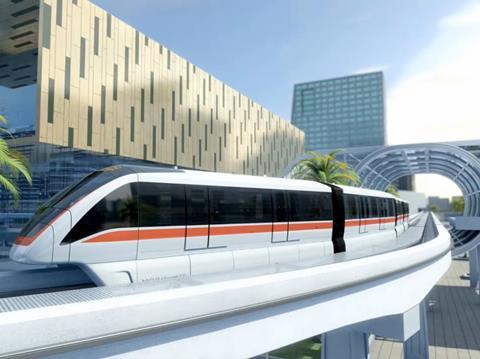 THAILAND: Bombardier Transportation announced on August 14 that it is to supply driverless rolling stock and signalling for two monorail lines being developed in Bangkok.
Northern Bangkok Monorail Co has signed a contract for 42 four-car trainsets for the 34·5 km Pink Line linking Khai Rai and Minburi. Eastern Bangkok Monorail Co is buying 30 four-car trainsets for the 30·4 km Yellow Line that will connect Ladprao and Samrong.
The Innovia Monorail 300 rolling stock will be assembled at the Puzhen Bombardier Transportation Systems factory in China. The trains will have a maximum speed of 80 km/h.
Bombardier will also supply Cityflo 650 signalling to both lines, to enable a design capacity for each line of 28 000 passengers/h per direction
The Pink and Yellow lines were approved last year and are being developed under 30-year PPP concessions.