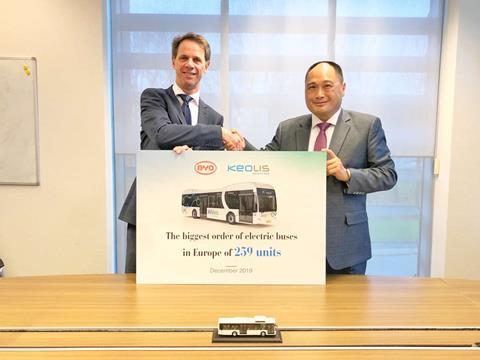 NETHERLANDS: Keolis Nederland has ordered 259 electric buses from BYD. The Shenzhen-based supplier said that the contract signed on December 6 is its largest single order for electric buses in Europe.
Deliveries are due to begin in mid-2020 for entry into service at the end of that year. The buses will operate in the IJssel-Vecht region, including in Zwolle, Apeldoorn and Lelystad.
BYD will supply 206 of its 12 m long model, which will be equipped with roof-mounted pantographs. The order also includes buses of 13 m and 8·7 m.
'This is a momentous occasion for BYD and also represents a huge commitment to electric mobility since it becomes the largest European fleet ever switched to electric at one time', said BYD Europe Managing Director Isbrand Ho.