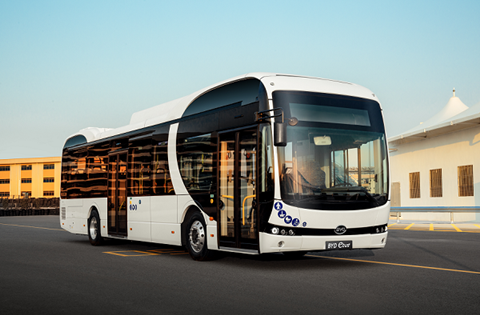 GERMANY: Bochum-Gelsenkirchen transport operator Bogestra and Herne transport operator HCR have placed a joint order for electric buses with BYD in what the manufacturer says is its first electric bus contract in Germany.
BYD is to supply 20 buses for Bogestra and two for HCR from mid-2020. The 12 m long air-conditioned vehicles will have capacity for 80 passengers and a range of 200 km. They will operate on route 354 in Bochum, route 380 in Gelsenkirchen and in Herne.
BYD is providing an eight-year guarantee for the batteries, which will be mostly charged during overnight depot stabling. ABB is to install chargers at depots including Bochum-Weitmar and Gelsenkirchen-Ückendorf, as well as the central bus station in Gelsenkirchen Buer. The buses will also be fitted with pantographs for fast charging.
The €12m order is being financed by the Federal Environment Ministry, the Land of Nordrhein-Westfalen and regional transport authority VRR.