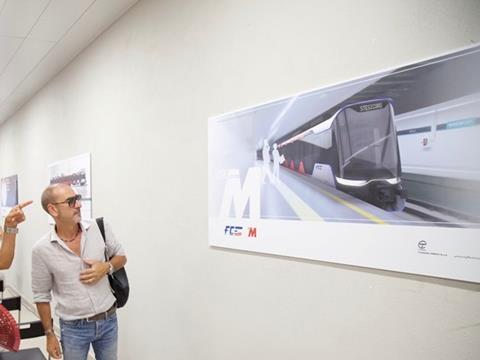 ITALY: Catania metro operator Ferrovie Circumetnea has presented the design of its new metro trains at Giovanni XXIII station.
In February Ferrovie Circumetnea signed a framework contract with Titagarh Firema, the Italian subsidiary of Titagarh Wagons, for the supply of up to 54 two-car trainsets. A firm order for 10 sets was signed in April, with EU funding in place for these trains. These are currently being built, with the first scheduled to arrive in Catania in December 2020 or January 2021.
The trains will have capacity for 64 seated and 356 standing passengers, and will be equipped with LED lighting and CCTV. Pininfarina is responsible for the styling.
The trains are being ordered at a cost of €4m each. A contract for the next tranche of 17 sets is due to be signed later this month; this would be partly funded by €59·5m from the Ministry of Infrastructure & Transport.
The government had previously allocated €9·9m for the refurbishment of the existing fleet of eight-car sets, supplied by Firema in 2001-11.
The fleet is being enlarged in line with the expansion of the city's sole metro line. The next extension to open is due to be the 1·7 km Nesima – Monte Po section, which has been under construction since December 2015. This is expected to open by the end of the year, following delays to the original schedule.
This will be followed by a 2·2 km extension from Monte Po to Misterbianco Centro. A further 11·5 km extension from there to Paternò recently received final approval from the regional council.
At the other end of the line, a 2·2 km Stesicoro – Palestro extension has been under construction since December 2016. This would eventually reach Fontanarossa Airport, once a further 4·2 km extension is opened. This is expected in 2024.
A detailed feature article about Catania appears in the Autumn 2018 issue of Metro Report International.