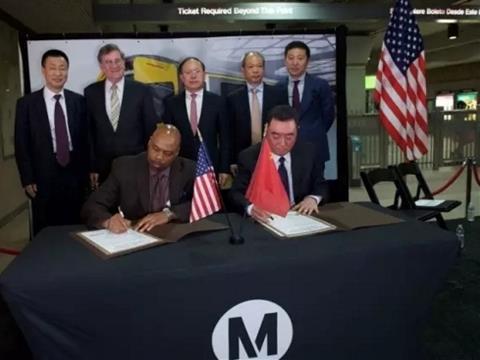 USA: Los Angeles County Metropolitan Transportation Authority and CRRC signed a framework contract for the supply of up to 282 metro cars at Union Station on April 12.
The base order is worth $178m and includes 30 cars to replace the 25-year-old vehicles on the Red and Purple lines, in addition to 34 cars for the first phase of the Purple Line extension from Wilshire/Western to La Cienega, which is due to open in 2023. The contract includes five options that would bring the total value to $647m if all are exercised.
Bodyshells will be manufactured in Changchun, with final assembly taking place in Springfield, Massachusetts, to meet federal Buy America requirements. A pilot trainset is expected to be delivered by early 2020, with all 64 cars from the base order due to arrive by September 2021.
CRRC is to set up a new facility in the Los Angeles region where it will manufacture major propulsion, HVAC and lighting components.
The HR4000 trainsets will have a maximum speed of 120 km/h, and will be equipped with dynamic line maps, LED displays and walkthrough gangways. They are being built for a 40-year service life.
LA Metro says that it will need to purchase almost 300 new cars to replace its ageing fleet and increase service frequencies. The Purple Line extension, being built in three phases, is expected to increase ridership by 80 000 passengers per day.