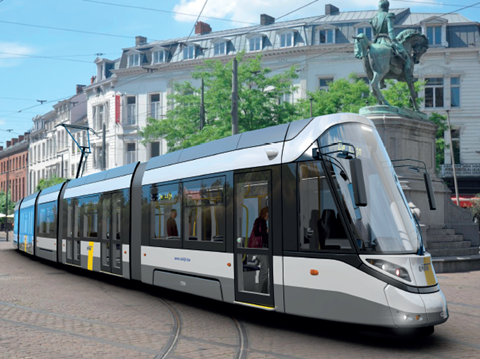 BELGIUM: Vlaanderen transport operator De Lijn has approved the purchase of 23 trams from CAF at a cost of €44m for use on the network in Antwerpen. Deliveries are scheduled in the second half of 2022.
At 31·4 m in length, each new low-floor tram would replace two PCC trams. The unidirectional air-conditioned vehicles can run in multiple, and have 54 seats, 22 tip-up seats and room for 126 standing passengers.
This order forms the third tranche of a framework contract signed in October 2017 covering the supply of up to 146 trams, which is De Lijn's largest ever procurement. The first two tranches, of 24 trams each, are due to enter revenue service next year on the coastal line serving Oostende.
According to Vlaanderen mobility minister Ben Weyts, the framework contract forms De Lijn's largest ever tram order, which could be worth up to €294m. 'We are replacing the oldest vehicles with contemporary and comfortable trams that can tempt more travellers to opt for public transport', he added. De Lijn plans to order trams to operate in Gent, as well as more for Antwerpen.