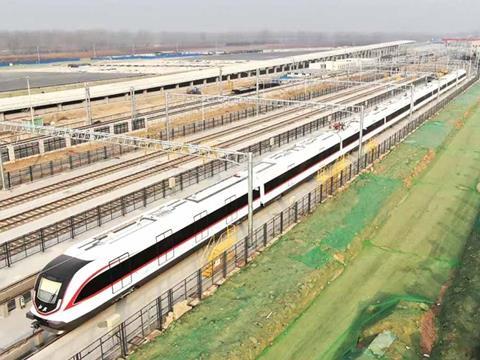 CHINA: Rolling stock to be used on the New Airport Line in Beijing has commenced testing. The 160 km/h Type D trainset is reported to be the fastest metro train in China.
CRRC Qingdao Sifang is supplying a fleet of 12 driverless trainsets to operate on the line that will serve Beijing Daxing International Airport, which is due to open to the south of the city in September.
The aluminium-bodied trainsets comprise four motor and four trailer cars, including one car designated as business class. The trains are 180 m long and 3 300 mm wide with capacity for 1 538 passengers. They are equipped with wheelchair spaces and USB sockets, and draw power at 25 kV 50 Hz.
The start of trial operation on the New Airport Line is due to coincide with the opening of the new airport. The 41·4 km route linking the airport's north terminal with Caoqiao station on metro Line 10 would offer a journey time of 19 min. Construction started in November 2014 at a cost of 41bn yuan.
Extensions are planned at both ends: a southern extension to the south terminal and a 3·5 km northern extension to Lize Business District.
In longer term, the airport will be served by metro Line 20, which is currently in the planning phase.