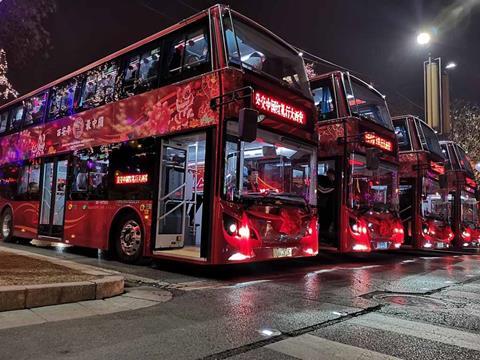 CHINA: Xi'an put into service 100 electric double-decker buses supplied by BYD on January 30, ahead of the Chinese New Year festival.
The K8S vehicles have entered service on routes 284, 608 and 609. A further 100 are due to enter service on routes 19, 25 and 603 at a later date.
The lower deck is 1·9 m high, and features a wheelchair area and entrance ramps. The upper deck is 1·7 m high. The buses are equipped with BYD batteries.
The order for 200 buses follows previous deliveries from the same manufacturer. In 2016 Xi'an put 1 100 BYD electric buses into service, followed by a further 1 900 in 2018. BYD has also supplied the K8S model to Shenzhen, Guilin, Huai'an, Jingdezhen and Pingtan.