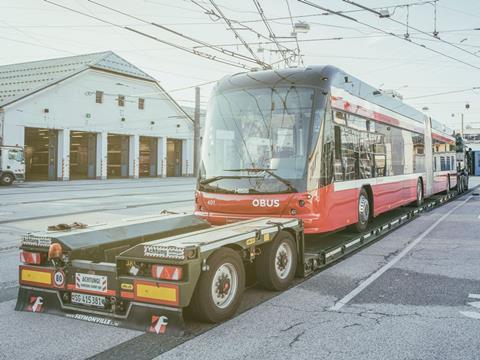 AUSTRIA: Swiss manufacturer Hess delivered the first of 15 battery trolleybuses that it is supplying to Salzburg AG to the operator's depot on August 27. The vehicle travelled to Salzburg on a low-loader.
Salzburg AG ordered 15 battery trolleybuses for €15·3m, with deliveries to be completed by the middle of 2020.
Testing of the first trolleybus is due to begin on September 9, with the second joining it on October 14. Entry into regular passenger service is planned for December 15.
The 18·7 m long articulated buses have capacity for 155 passengers. The permanent magnet motors are powered directly from overhead wires and through traction batteries that allow off-wire operation. The batteries are charged through the overhead wires, with regenerated braking energy also stored in the batteries.
The buses will enable Salzburg AG to extend trolleybus Route 5 by 4·2 km to Grödig without the need to put up wires.
From December 15, trolleybuses on route 5 will run every 10 min on weekdays, with every other bus going to the new terminus. The frequency will drop to 20 to 30 min on weekends. At Weidenstraße the buses will automatically transition between overhead and battery traction.