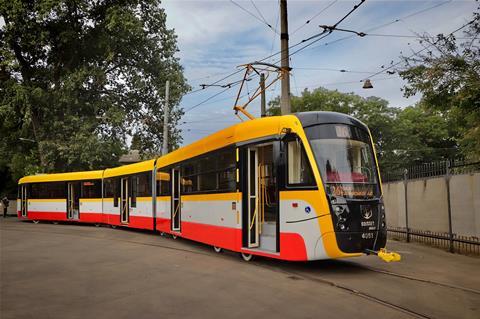 UKRAINE: Odesa tram operator Odesmiskelektrotrans presented a three-section version of an Odyssey-branded tram on September 17.
Branded Odyssey-Max, the 30 m long unidirectional vehicle comprises three sections, of which the central section has a low floor. It has capacity for 250 passengers including 62 seated.
Odesmiskelektrotrans has ordered six vehicles from local supplier Vagonoremontni Maisterni, which is assembling them at the operator's workshop. The bodyshells are being manufactured by Polytechnoservis to Pragoimex designs, and the bogie frames are recycled from older trams. Each tram costs 18m hryvnia.
In June 2018 Odesmiskelektrotrans ordered six single-section Odyssey trams.