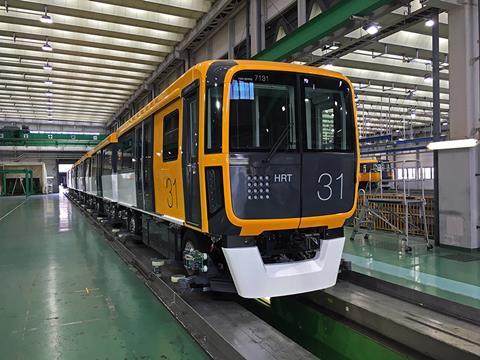 JAPAN: Hiroshima Rapid Transit Co has taken delivery of the first of 11 six-car rubber-tyred Automated Guideway Transit light metro trainsets which Mitsubishi Heavy Industries Engineering is supplying to replace the existing vehicles on New Transit Line 1, known as the Astram Line.
Testing and commissioning of the first set will now be undertaken ahead of entry into service in spring 2020.
The operator ordered the Series 7000 cars in 2017 for delivery in phases by 2025. They have a double-skin aluminium-alloy structure designed to combine light weight, durability and easy recycling, and MHIENG's latest T-smover bogies which offer low weight, durability, low noise and vibration and ease of maintenance. The G-Fit seats are designed to provide body support while encouraging seated passengers to keep their legs out of the aisle.
The chrome yellow livery was selected to convey peace, 'a befitting symbol for Hiroshima', the supplier said when the order was announced.
The Astram Line opened in August 1994 and is the longest AGT route in Japan, running 18·4 km from Hondori station in the city centre to Koiki-koen-mae in the northwestern suburbs.